lathing and balancing of components
On our premises or in situ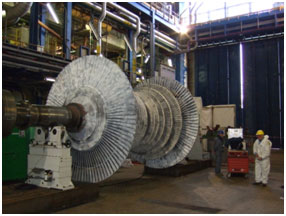 Together with its maintenance services, Conav S.r.l. also has two lathes and a transportable slow speed balancing machine.
We use a lathe for particular processes carried out in situ or on our premises involving:
blade replacement and tape banding
lathing packages
steam sealing replacement and lathing.
The balancing machine is used for operations involving rotor balancing following the operations mentioned above.
We can also carry out lathing and balancing of rotating parts with a diameter of up to 3800mm and weighing up to 56 Tons.
This is yet another illustration of our all-round capability and professionalism. We can provide a single solution to all your problems, meeting all your needs quickly and efficiently.
Our machinery and the quality of our work can satisfy the needs of any customer. Our approach is always to do the best job we can and to work with you with intelligence and commitment.
We have constantly improved our services over time, developing new methods and efficient solutions to meet our customers' needs.
We are positioned to offer a complete service with impeccable quality in all respects, guaranteeing outstanding performance every time.