Spare parts for your plant
Quality production of parts for your plant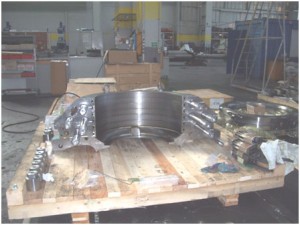 In parallel with its maintenance services, Conav S.r.l. also supplies spare parts to fully meet the needs of its customers.
We supply spare parts for all steam turbine and generator components, allowing us to offer a comprehensive and diverse service to meet every need. Our customers know that with us, they can find appropriate, efficient solutions.
We can meet the most diverse requirements, from maintenance to the supply of spare parts. With us, you can be certain of finding a fast, high-quality solution.
Every service we offer is carried out to the highest possible standard: our aim is for our customers to be completely satisfied and to know that they can turn to us for the solution to any problem and the answer to any particular requirement.
We know that we can rely on highly-qualified, expert staff and on the most modern and innovative machinery which support us in our manufacturing and maintenance operations.
All the spare parts we produce are compatible with those produced by manufacturers Ansaldo and Franco Tosi.
We guarantee complete interchangeability of the components we supply, as well as competitive prices and swift delivery.
Our proactive approach and ability to anticipate the requirements of individual customers means we can provide outstanding products and solutions.
Advanced technology that produces innovative, efficient solutions that meet the requirements of every customer and fulfil their expectations of an outstanding result.
We work intelligently and to the best of our ability, following strict quality standards and respecting environmental regulations, at all times offering the best service and product we possibly can.